Johnny and Ella Relationship Status
#90dayfiance
#90dayfiancecouples
# ellaJohnson
#Johnny
Ella Johnson chose to have an open relationship when her Chinese boyfriend Johnny declined to meet her in Dubai on the 90th day of their relationship. Fiancée: Before the 90-day mark.
By Maggie Watson
a year ago
Ella Johnson of 90 Day Fiancé inadvertently disclosed whether she and Johnny are still dating in an Instagram story. Ella, 29, from Idaho, wants to see her two-year Chinese lover, Johnny, face to face on 90 Day Fiancé: Before the 90 Days.
After having fulfilled her fantasy of finding her own Asian prince in Johnny , Ella wants to get married to him. However, single father Johnny, 34, is concerned for his kid and elderly parents if he travels during COVID-19. Ella , on the other hand, has been behaving selfishly and has issued Johnny with an open relationship caution. Johnny believes Ella will soon replace him with a new guy, but this may already be the case.
After 90 Day Fiancé: Before the 90 Days episode 10, Ella, who was previously chastised for having an Asian fetish , is now being chastised for her stupid remarks about Dubai. Ella further said that she is sacrificing a lot to see Johnny in the Middle East when all she did was purchase her tickets, but Johnny is risking everything, including his career and the well-being of his family.
However, Johnny has found several excuses not to see Ella, despite the fact that his concerns about getting COVID-19 are real. Meanwhile, Ella believes there's more to the tale, which might explain why she's chosen to meet different guys, which Johnny believes is harmful to their relationship.
Johnny claims to be Mr. Right for Ella and to love her completely, but because Ella has already decided to date others, does this imply she'll end up cheating on Johnny if he refuses to meet her? Ella has already stated her present relationship status with Johnny, therefore it's unlikely.
Ella's 90 Day Fiancé fans were astonished when she posted a screenshot to her Instagram stories (via Monsters&Critics).
The snapshot shows her and Johnny on a video chat, both of whom seem to be quite pleased. "Just another video conversation with my love," Ella captions with a series of multicolored heart emoticons, perhaps indicating that they are still going strong despite their disagreements over seeing each other and her threats to date other guys.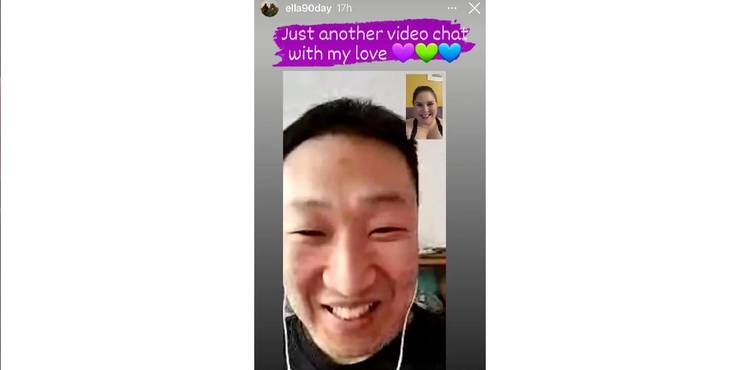 Several people believe Ella has been nothing but selfish so far in her relationship with Johnny. Her entitled demeanor has irritated TLC viewers, who believe she is behaving pampered every time she speaks to Johnny.
Many fans find__Ella's__ portions difficult to watch, leading them to believe that Ella only wants to marry the Asian guy of her dreams and has no other plans. Johnny, on the other hand, is typically the voice of reason in their relationship, despite being treated terribly by Ella, who continuously rejects his worries, such as him stating that if he tested positive for COVID, he'd be bankrupt owing to hospitalization.
Ella and Johnny's relationship looks to be deteriorating with each episode of 90 Day Fiancé: Before the 90 Days. But Ella's Instagram story has debunked all rumors about her not being with Johnny. It's uncertain if Johnny went to Dubai at the suggestion of his buddy Wang because he can't envisage his life without Ella. In any case, it seems like Ella and Johnny's tale will progress well in future episodes of their 90 Day Fiancé drama. But, on the other hand, it's possible that Johnny consented to Ella having an open relationship because he loves his self-centered girlfriend too much.