By Emma Watson
a year ago
As any good Kid will tell you, there are certain things that he wants to experience that his parents is unlikely to approve of. It might be something little, such as picking up sweets on the way home, or something more significant, such as taking a cold beer or driving a car without a license, to attend parties at night....
They're exceptional times that strengthen ties and create lasting memories, and their secrecy is generally what makes them so memorable.
An Anonymous Reddit user, recently asked kids and adults for their finest "Don't tell your parents" memories, and there were some genuine gems among the over 800 responses.
I will only take the the Top 10
1.
When I was fifteen I "borrowed" my mom's car to pick up a friend who had gotten drunk and ended up in a bad situation with some boys. On the way home I lost control on some ice and slid into a tree at the entrance of my neighborhood.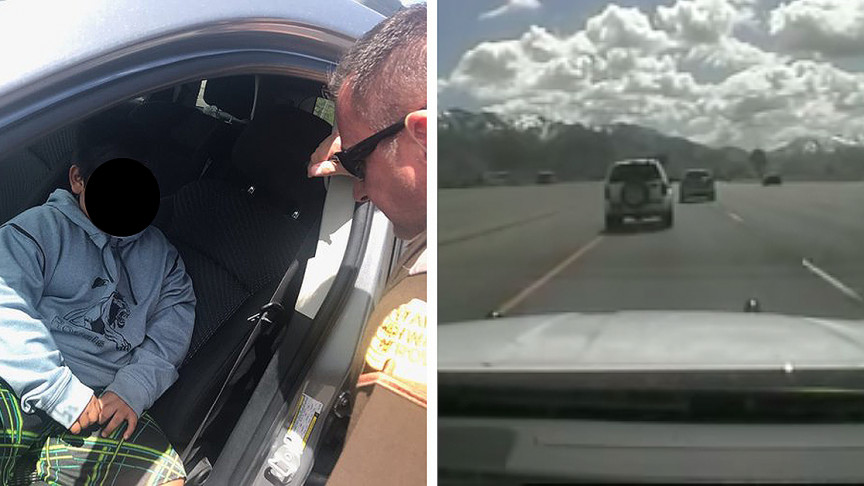 My mom is terrifying, but thankfully she goes to sleep early so when I called home I was relieved my dad answered. He came and pushed the car home, made my friend and I some sandwiches, gave me a lecture about driving without a license and put us to bed. The next day he told my mom that he had wrecked the car on an early-morning doughnut run. After that, I never hesitated to call my dad when I needed help, even when I knew doing so might land me in major trouble.
2.
I would take my daughter to Karate classes (we both attended them) every Wednesday. It was a long, 2 hour class, and sometimes she just didn't feel up to going, but didn't want to tell mom. So a few times, we'd get dressed up to go, and then just hit DQ for some ice cream and drive around listening to music until we headed back home. I felt kind of guilty about not telling the wife, but it was good daughter/dad time well spent. She is going off to college and you just can't get time back.
3.
The first time I had sex, I tried to dispose of the condom by flushing it. Seemed like a good idea at the time. The rubber resurfaced an hour or two later, and pops saw it. Later, he confronted me in passing as he walked by my computer in the basement, made sure I continued being safe, and warned that we both have a bright future ahead of us. Then, he put my heart at rest, "There's no reason your mother needs to know about this."
The really stupid thing is, this is exactly how he found out my older brother was having sex a few years earlier. And I knew about that prior, too. Use the fucking garbage, man!
4.
I'm a plumber, one day I was called to fix a sewage ejector pump. I opened it up and there were about 50-100 condoms completely clogging it. It was so bound up by the rubber that I said I couldn't fix it. (and didn't really try, because gross). I installed a new one and told the lady that she can't throw condoms in the toilet because they don't get chopped up. She responded with a puzzled "We don't use condoms" then suddenly her eyes squint she gets real calm and pays the bill without saying hardly five more words to me. I think I got someone in trouble. Not sure if her teenage (about 14) daughter or husband.
5.
My 14 year old daughter was supposed to go to Girl Scouts camp for a week. My wife was going to her parent's for that same week. I was supposed to be working.
My daughter really didn't want to go GSC and told me this on the way there. So, I stopped at Wal-Mart, got some cheap clothes for us, and continued past the camp. We took a road trip hitting Cedar Point, Pro Football Hall of Fame, Kennywood, Knoebel's Grove (which is awesome and highly recommended), Baltimore Zoo and Aquarium, then Ocean City, Md.
All was completed before my wife returned and for a total of $1,500. The Girl Scout Camp also refunded 75% of the $200 deposit and would have cost another $650.
tl;dr- played hookey for a week with daughter.
Edit: Try to answer all the questions.
I'm self employed and had one customer meeting in Pittsburgh, so the rest of the time was cleared.
I have a separate account I use for business related expenses. I paid it back $100 every two weeks without the wife noticing.
My wife would have almost no issue with this except the reason I gave her for not going with her to Minnesota was work, which was true.
I live in Ohio, but originally from central PA, so I always knew of and loved Knoebel's.
My daughter's camp was $850 total for the week. I lost $50.
The trip was about 4 hours of driving per event and returning from OC was about 8 hrs.
Knoebel's is the best amusement park I've ever been to. The haunted house is amazing and we loved The Phoenix.
Cedar Point truly is the roller coaster capital of the world.
Kennywood was meh. Pricey for what it has. Noah's Ark was unique and we loved the Black Widow, but the line was omg huge.
The HOF was impressive for me, my daughter not so much. I did get to tell her a lot of memories there.
The Baltimore aquarium was more impressive when I was younger.
Ocean City was great, but the heat was overbearing when we were there.
6.
My wife got a call that she needed to pick our daughter (3 years old at the time) up from preschool because she had shit her pants. Apparently, she somehow got shit everywhere, her pants, shirt, shoes, everywhere. After picking her up, my wife brings her home cleans her up and puts on her favorite dress and takes her out for ice cream assuming she is too embarrassed to talk about it and wants to make her feel better.
I get home, and while my wife is cooking dinner in the other room I asked her what happened. She gets a big grin on her face and begins to explain as clearly as a three year old can that she was unhappy her Mom wouldn't let her wear a dress and if she pooped her pants and got it on her clothes she knew we would have to change her. The rest of the story unfolded like a Bond villain explaining their master plan. I could see in her face how proud she was and between my own conflicting feelings of disgust/pride/concern all I could think of saying was two things: "Never do it again, and never tell your Mother."
7.
I'm the son but here we go...
I was out deep sea fishing with my dad when I was about 12. We were going for tuna and marlin about 70 miles offshore. I was rigging up one of our bigger trolling lures that had a hook about 3" long when I slipped and it hooked me on my hand between my index finger and thumb. The barb went into the muscle but not all the way through.
He got me up and said "Well, we have 2 options. We can go in and get it taken care of or I can push it through, cut it off, and we keep fishing". We were about 3 hours from shore so I said "Do it".
He was a surgeon so I trusted him. He gave me something to bite down on as he grabbed my hand. He said "Okay. 1 - 2..." looked me in the eyes and said calmly "don't tell your mother" then did it. It hurt a ton. He cut the barb, pulled it slowly out and dressed the wound with our first aid kit. We caught a few excellent fish and went in 4 hours later. Best decision ever.
TL;DR - I got a big-game fishing hook stuck in my hand and my father, with my permission, pushed it through the rest of the way to cut the barb off so we could keep fishing.
8.
My dad was a cop for years and has always had kind of a heavy foot when driving. At the time, New Zealand had issues with "Boy racers", the kids who get jobs at the meatworks right out of high school, buy a Mitsubishi Evolution or a Subaru WRX STI or something like that and soup the hell out of it the rip around towns racing and whatnot. The cops didn't have cars that were able to keep up.
Then, one year, when I was in high school, NZ had a surplus and the cops got a big injection of money and spent a chunk of it on high performance cars for chasing down boy racers. My dad and I had been up in another town watching rugby one night and had to dive past the police station on the way home, so we stopped in to have a look and the receptionist threw him the keys.
Dad went absolutely nuts in this thing, I've never seen him drive like this. We tore down the backroads (empty for miles around) with the sirens and lights screaming, sliding corners rally style and having a great time. His mate lived reasonably close on a farm so we let ourselves into one of the empty paddocks that's set up to have a new farmhouse built on it and slid around all over the place. There's a straight about 4-5km long that has no other roads off it and we hit 230km/hr (150mph for our American friends) on the way out of the farm.
We walked back into the house after getting home and mum asked how the rugby was and dad accidentally said "What rugby?" but we got away with it somehow. As far as I know, she still doesn't know.
9.
was very ill as a child and I spent a lot of time in hospitals. There was a period when I was about five or maybe six when I was kept in for a few weeks because I couldn't eat.
My parents were (and are) wonderful loving people, but they were left wing bohemians with all the baggage that entails. I was raised atheist and Mum took great pains to make sure I couldn't play with toy guns as a boy and that all my toys were gender neutral. She would carefully weed bags of toyshop Cowboys and Indians, the ideologically suspect Cowboys would be removed from the bag and the far superior Indians would be returned and the bag stapled closed again.
I will never forget my father coming into the hospital after work, his coat still smelling of rain, after a hard days teaching. He took a bag of toy soldiers (8th Army versus Afrika Corps) out of his pocket and set them up on the tray table at my bed. I was completely enchanted. I had always wanted these and was too weak to play with them.
Dad carefully set up the flags and explained who was who. I couldn't do much, but he moved them and made the noises and it was one of the most magical moments of my life. When visiting time was over, he packed them away, kissed me and told me never to breath a word to Mum. He managed it every night for a week while Mum was at a writers retreat.
I have a collection of thousands of toy soldiers now, but I will never forget those guys or what my father did.
I'm 33 and I still haven't told Mum.
10.
Not a father yet, but here's the story of one of the few times my dad said "don't tell mom."
I was eight years old with two younger brothers, one of which was a baby. He was maybe 7 months old at the time. My dad and I needed to go to the mailbox at the end of the street, and took my new brother with us. On the way home, I decided to push the stroller.
"Dad, let's race!" I accelerated as I spoke, breaking into a run with the stroller in front of me, baby bubbling with glee. My dad is quick, so he caught up in no time. Suddenly, the stroller's front left wheel fell off the curb, and the entire tot-vehicle toppled over, little brother rolling out onto the pavement.
What scared me most was how quickly my dad moved, and how silent the baby was. Dad got my brother, corrected the stroller, and placed the baby back in. He was visibly unscathed (even if I still tease him that I dropped him on his head). We walked forward a few paces before my dad turned, pointed a finger in my face, and said, "Don't you ever, EVER tell your mother about this."
Knowing how mom could/can be, she's the only one who doesn't know the story.