By Dimer au Congo
a year ago
A US military officer, Audrey Cheyenne-Smiley Moon, 19 has married Kevin, 61, who she met on the dating site Badoo in January 2021. James is older than Audrey's parents, who are 38 and 43 years old,.
The parents of a teenager who married a 61-year-old father of two claim they have finally accepted him into their family, despite the fact that they called the police the first time they saw him.
---
Audrey Cheyenne-Smiley Moon, 19, and her husband Kevin, 61, met on the dating website Badoo in January of last year and have been together ever since.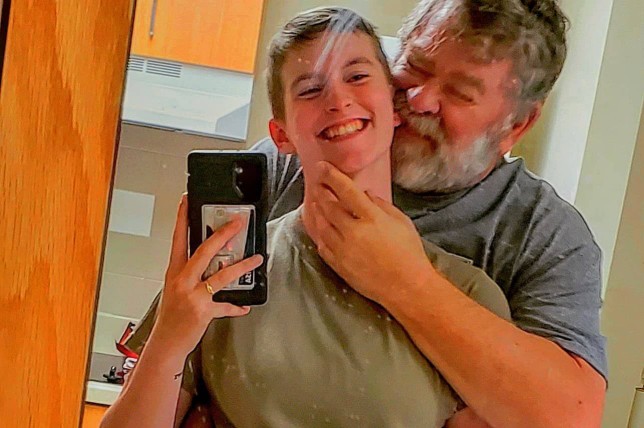 Despite the 42-year age difference between them, she was first drawn to him by his bio, which said that he, too, was a veteran who had previously served for the military police force.
Within a few months of talking online, they had become an official couple and had both expressed their feelings for one another. In July 2020, they finally met in person for the first time and had their first kiss.
'I was both thrilled and terrified to finally meet him,' Audrey said to the press. He still speaks about the day he first set his eyes on me, and he does it with much emotion.
'Kevin was the one who took the initiative. When we first met face to face, he grabbed my face in his hands and kissed me. That was our first kiss. 'We can both agree that it was love at first sight,' says one of us.
Audrey and Kevin, both from Modesto, California, had never been in a relationship with such a significant age difference before, but they think it doesn't matter since they have a lot of similarities and a deep bond with one another.
'Whatever makes our love so wonderful and ideal for us is our ever-growing love for each other,' Audrey stated.
Kevin, a Cemex dispatcher, had been married for 19 years and had two children, who are now 16 and 23 years old, before finding Audrey.
Surprisingly his children are supportive of the relationship and delighted to see how happy the couple has become together.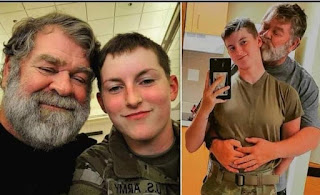 Audrey originally kept their relationship a secret from her parents, who are 38 and 43 years old, due to Kevin's age difference. However, she made the choice to inform them in August of last year after weighing her options.
'When I initially met him, my family was very antagonistic toward me since we had informed them about us in a negative light,' Audrey said.
'I contacted them while I was gone with him, and when we returned to my parent's home, we were greeted by my whole family, as well as the police officers who had been waiting outside.
My family has come to truly appreciate Kevin after getting to know him and learning about his beliefs. It was frightening at first, but Kevin was willing to stand up for what was right.
They are now planning their future together, with Kevin intending to be a stay-at-home parent.
They also want to travel by RV and acquire two dogs, but are presently separated due to Audrey's job in the Middle East. They want to live together after Kevin's retirement next year.
Audrey asserts that their long-distance relationship thrives on regular contact, and she is as smitten with Kevin as she was when they met.
'I like his enthusiasm and patience,' she adds. He is also a really generous and nice guy. He has a very pure and compassionate spirit.
'People my age are very callous and self-centered. Kevin is the polar opposite of that. He is very understanding and just wants to help me.
'They are mostly concerned with social media and getting followers. Nowadays, people will go to any length to get a like. Kevin and I are not like that. We are very unselfish individuals who like assisting one another and others around us before we assist themselves.'
---