Mahogany Shades Mike For His Apology On IG
#90dayfiance
#90dayfiancebeforethe90days
#mahoganyroca
#mikeberk
Mahogany of 90DF accused Mike of mocking her before removing her initial Instagram. Is the real Mahogany returning to reveal the real Mike?
Mahogany Roca has allegedly returned to Instagram after abruptly deleting her account, where she is now criticizing 90 Day Fiancé co-star Mike Berk. Mahogany, a Peruvian lady, does not resemble the photographs she shares on social media; in fact, her boyfriend Ben Rathbun's relatives and friends feared whether she was a scammer in a possible catfish scenario.
No one can get Mahogany's preoccupation with face-altering filters out of their heads, even after her big disclosure on 90 Day Fiancé: Before the 90 Days. Mike seems to have mocked Mahogany's editing efforts by posting a joke about her just before she erased her original Instagram profile.
Mahogany utilized her @mahogany peru page in the first week of March to publish and erase a lengthy message in which she chastised Mike and her detractors.
A Reddit user captured a screenshot ___ of Mahogany's__ disturbing caption before it was removed. "I'd want to thank Mike from 90 Day Fiancé for giving me a photo of himself making fun of me.
"Aside from that, thank you for all the ridicule comments," Mahogany said on Instagram. She said that her mental health was in disarray and that she was suffering a panic attack.
Mahogany informed her detractors that "whether you like it or not, altered or not," each of her photographs would always be her own. She also addressed people who were making fun of her Peruvian accent and wondering whether she was indeed Latina.
According to followers, Mahogany was taken from Instagram a few days later. However, a new profile called @mahogany. 90day was discovered recently, which might be Mahogany's. The first image on the page is a selfie of Ben and Mahogany that Ben posted on his own Instagram before removing it.
The profile highlight section, on the other hand, features a screenshot of a communication reportedly received from reality TV personality Mike. "Mahogany, I'd want to apologize for the meme I shared on your previous account... Ximena is really dragging me badly," Mike's profile photo emerges. If it is Mahogany, the page owner captioned the screenshot, "So you don't apologize Mike if it wasn't for @ximena 90day?"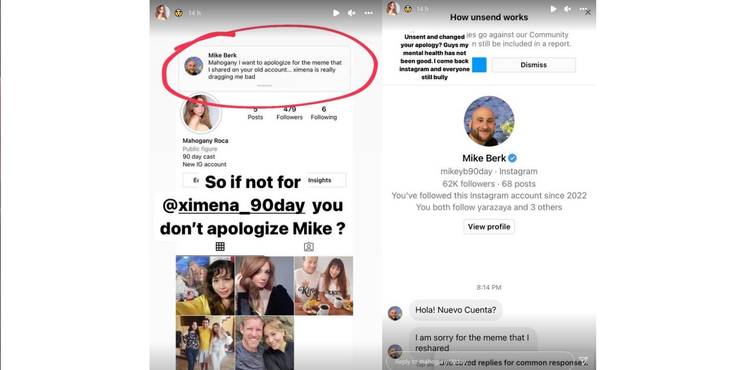 Then there's a second screenshot with entirely different DMs allegedly sent by Mike. "Hola! "Nuevo Cuenta?" asks the first message, which is followed by "I apologize for the meme that I reshared." Mahogany questioned Mike in this scene, stating, "Unsent and modified your apology?" Mahogany also admits in the caption that her mental health has been a problem.
"I return [to] Instagram and everyone [is] still [a] bully," the remainder of the post states. Despite the fact that the page seems to have just been up for five days, it already includes a large number of scathing remarks for Mahogany from program watchers. "Oh my god, please stop using all of the filters. Some of the nasty replies to Mahogany's selfie include, "The entire world knows you look NOTHING like this," and "Oh hello, how about you use your own face in pictures?"
While Mahogany creating a new page and being yanked for using filters again is astonishing in this situation, there's something else that doesn't match up.
Fans have been reading headlines about Mike and Ximena's separation, with the Colombian lady accusing the New Yorker of beating her and lying about meeting on Tinder when they met on a webcam service. Does it make sense for her to want Mike to apologize to Mahogany if Mike and Ximena are no longer together? Mike and Ximena have not reacted to the Mahogany profile's callouts, implying that this is a 90 Day Fiancé mystery that may never be solved.