By Dimer au Congo
a year ago
CREDIT : National Geographic Updates/Dan Winters/Photographer, A breathtaking shot of Angelina Jolie coated with bees. ViaT. Desk Headquarters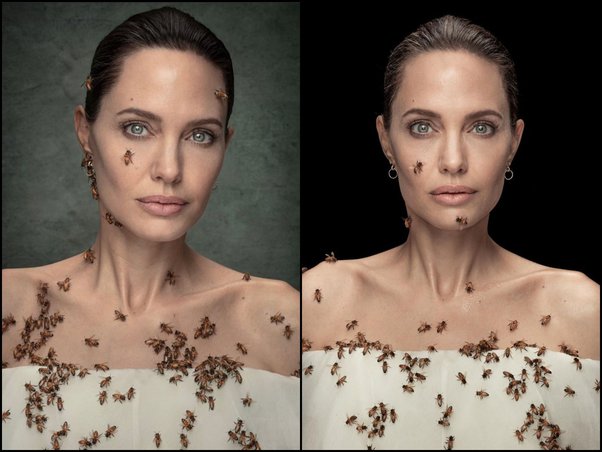 Angelina Jolie helped promote World Bee Day on May 6 Thursday.
To mark World Bee Day on May 20, National Geographic commissioned the actress to appear for a photo shoot in which she was coated with bees. Gabriela Hearst designed a white, eco-friendly gown for Jolie.
Angelina described why she decided to have a one-of-a-kind picture session with Dan Winters.
This time, Angelina Jolie's piercing green eyes and flawless skin were the star of the show.
Please join us on YouTube by subscribing. Here you can find the latest news from the Royal Family. 'With so much we are worrying about throughout the globe and so many people feeling overwhelmed with awful news and the reality of what is falling, this is one that we can handle,' she said in an interview with National Geographic. It's up to each and every one of us to do our bit.
A lot of individuals aren't aware of the harm they're doing." There are a lot of individuals out there who are simply trying to get by, she said. "They have a nice heart. Because they don't want to do any harm. They don't know which thing to buy. They have no idea what to do. In order to make things easier for everyone, I suppose I'm a part of this effort."
In order to promote awareness of the worldwide extinction danger that bees confront, the United Nations established World Bee Day. Bee extinction rates are 100-1,000 times higher than typical, according to the United Nations website.
For three days, Jolie was unable to take a shower before posing for the stunning picture.
She explained: 'It felt so strange to be in hair and makeup and wiping yourself with pheromone. We couldn't shower for three days prior.
Bees may become confused by the aromas of soaps and shampoos, according to the 45-year-old actress. She also added that she had to lock her nose and ears to keep the insects out.
'I had one that went under my dress the whole time,' she said. Like one of those old movies, it was a hoot.
After a while, I realized that being stung on my knee or thigh was the worst possible place to be.' "It's only a matter of time." It remained in place for the whole of the photo session. When I had removed all the other bees from the skirt, I raised it and he disappeared.'
Her role as Godmother of the "Women for Bees" program was recently announced by the UN Educational, Scientific, and Cultural Organization, which seeks to educate women about beekeeping in order to preserve biodiversity.. Beekeeping training will begin with Jolie as one of the first 10 female beekeepers. At home, she's already getting started.
When she spoke, she remarked, "I've had six kids and a lot going on, and I have no idea how to be 'perfect' anything." Then we can say, "This is a simple solution that you can do with your children," and assist each other get there.
In addition, Angelina added that it 'simply felt nice to be linked to these beautiful animals.'
As she put it, "You need a lot of stillness and a lot of presence in your body, and that's not always easy for me." A portion of the reasoning was because this critter is seen as harmful or stinging at times. So, how do we deal with the situation? The idea is to live in harmony with one another on the same planet. Every interaction we have with one another has an impact on us. In my opinion, this is exactly how it should feel. I was ecstatic to be a part of such a special event."