Although they are not in 90 Day Fiancés yet , But I hope they're going to be Because Linda and Tim looks like great couple.
Little back story , I know you guys remember Tim Malcolm and his ex Veronica Rodriquez they were one or even the most popular and loved hosts on Pillow Talk's . Veronica had a bit part in Tim's storyline when he was featured on season 3 of 90 Day Fiancé: Before the 90 Days with ex Jeniffer Tarazona who's going to be featured in the up-coming '90 Day : The Single Life Season 2 " . Him and Veronica bond and connection on Pillow Talk frequently has audiences pleading for them to rekindle their relationship .
What Happen Tim Malcom and Veronica ?
They are definitely not together. During the July 18th episode of the 90 Day Fiancé spinoff, 90 Day Diaries, Tim Malcolm disclosed that he has begun a serious relationship with his new Colombian girlfriend, Linda Ramirez, and that they have moved in together.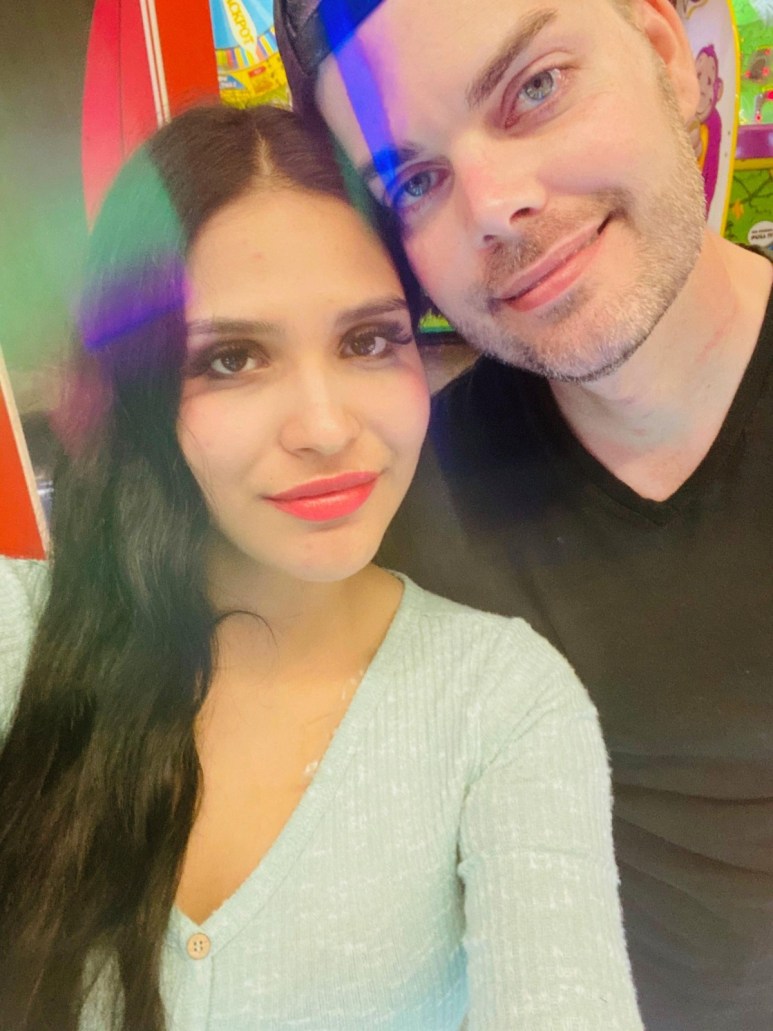 Who is Linda Ramirez ?
Linda, 23 , is a proud, beautiful, and amazing Colombian-American who has lived in the United States for approximately a year and a half.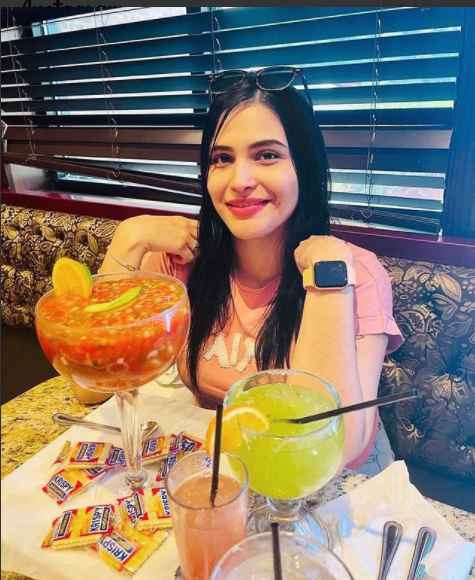 Is Tim Malcom concerned about his age difference with Linda Ramirez ?
Tim's new girlfriend, Linda Ramirez, according to all we know thus far : Shaun Robinson, the presenter of 90 Day Bares All, interrogated Tim extensively about Linda Ramirez. When Tim was questioned about their disparities, he mentioned the fact that they were 17 years apart. It's been 41 years for Tim and 23 years for Linda Ramirez. " There is no problem with their age difference ", Linda Ramirez informed everyone. She believes Tim is attractive and doesn't appear like a "old guy." In addition, Tim informed Shaun that he enjoys how low-maintenance Linda is compared to other women he has dated in the past.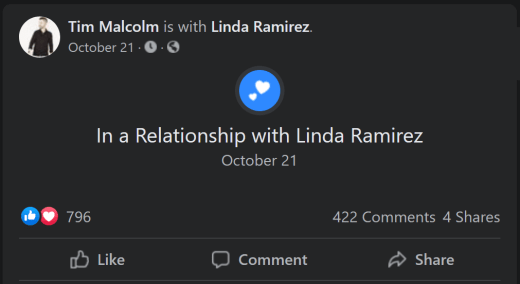 Regrettably, some fans chose to let their feelings about Tim and Linda get in the way of reality, rather than just congratulate them.
"However, Veronica is my favorite for you!" said one commenter.
Tim recognized the situation and reacted accordingly.
"I realize it's easy to overlook, but when you're on reality television, it's not like you're watching a movie," Tim said.
"This is a commemoration of our relationship, and I believe it is insulting to Linda," Tim voiced his feelings.
Tim has also wrongfully so many times been the target of odd fan comments that have led some to wonder about his ' homosexuality '. So, it seems that straight men can't wash their faces without instantly groping their girlfriends in front of the cameras.
Why Tim Malcom prefer dating Linda over Jeniffer Tarazona ?
On 90 Day Diaries, now available on discovery+, Linda was the subject of more discussion. Cali, Colombia, is where she was born. However, she has previously lived in the United States. "Linda is just eight hours away by automobile, which makes dating her simpler than dating Jennifer", Tim noted.
How the future look like between Tim Malcom and Linda Ramirez ?
During an episode of 90 Day Diaries, Tim reported that his and Linda's relationship is doing quite good. "I have such a good intuition that she'll be my match," he stated. During visiting his ex-girlfriend and current best friend Veronica at her home, she wondered regarding Linda's whereabouts. "How are things going with Linda these days?" "Do you think you'll be able to take it to the next level soon?" Veronica was the one who inquired. Then Tim announced that Linda "is preparing to move back in" with him, which was a surprise to everyone.
Is Tim Malcom and Linda Ramirez going to appear on'90 Day Fiancé: The Single Life' ?
What's going to happens in Tim and Linda's relationship will have to be seen and experienced first-hand in different future episodes, maybe in 90 Day fiancé or '90 Day Fiancé: The Single Life' season 3 .
Again, Combining work and pleasure may be a dangerous proposition. We can only hope that, if Tim does decide to propose, he will not make the same error he did with Jennifer and present her with an engagement ring that belonged to an ex-girlfriend.
Is the relationship between Tim , Linda Ramirez & Veronica a love triangle ?
Tim is now causing problems in Veronica's personal life, as her new boyfriend Justin is concerned about the lack of boundaries between the two Pillow Talk hosts. However, Tim informed a fan who wanted him to date 90 Day Fiancé bestie Veronica in October 2021, "I know it's easy to forget but when you're on reality tv it's not a movie."
Is Linda Ramirez and Tim still together ?
He also stated, "My current girlfriend and I are posting publicly that we are together," while advising the 90 Day Fiancé fan to put themselves in Linda's position after reading about other people pushing her partner to get back together with his ex. Tim had written "In a Relationship with Linda Ramirez" and tagged Linda in his Facebook post.
Is Tim still Love in Love With Tim ?
"Linda means a lot to me. "She's been here for approximately a year and a half," Tim said on the May 2021 90 Day: Bares All. Tim revealed to the fan who was shipping him with Veronica that he had been dating Linda for two years.
Linda is 17 years Tim's junior and a natural Spanish speaker from Colombia who began studying English after arriving to the United States. Linda didn't mind the age difference because she kept mentioning Tim being gorgeous and not appearing his age. The pair is still following each other on Instagram.
Is Linda Ramirez a lesbian ?
However, Tim has since withdrawn the "In a Relationship with Linda" status from his Facebook, and Linda has released a video on October 27, 2022, implying that she is a lesbian.
What Happen to veronica and tim 90 day fiancé 2022 ?
Tim Malcolm of 90 Day Fiance mourns: Who died ?
Tim Malcolm, according to Screen Legion, is bereaved at the loss of a sibling. According to the publication, his sister Tonda was suffering a rare cancer before she died.
Who's Tim's sister Tonda ?
Fans of 90 Day Fiance may remember that Tim's sister Tonda appeared on the program with her brother. Tim Malcolm stood alongside his brother in a brief video tape to share the devastating news that Tonda had lost her fight with cancer. Tonda was Malcolm's brother's wife.
Tonda, Tim Malcolm's "sister," it turns out, fought a rare kind of cancer. She has also previously been on the TLC program. Meanwhile, the 90 Day Fiance star appeared in a brief video with his brother to inform his admirers that Tonda had just lost her fight. Tonda turned out to be his brother's wife. As a result, the loss is felt across the Malcolm family.
90 Day Fiancé Fans Show Support For Tim Malcom
Tim Malcolm reminded his 90 Day Fiance viewers that Tonda has been fighting cancer for almost two years – and he is grateful for all the nice comments and good wishes that have come in during this terribly trying period. Meanwhile, he went on to declare that he would keep his fans informed as the funeral preparations progressed.
Furthermore, rather than writing to him directly, Tim Malcolm urged his 90 Day Fiance followers to write to his brother — who had just lost his wife. Tim went on to add Tonda was a "warrior," and that she had fought her unusual kind of "small cell lung cancer" for a long time before being formally diagnosed prior to isolation.
Tim Malcolm remembered his brother's wife lovingly, noting that owing to constraints during the epidemic, she had to go through the bulk of her chemo treatments alone. Meanwhile, he said that her love for her spouse and her children kept her going. Furthermore, even though he is struggling with tremendous pain, Tim Malcolm expressed gratitude that Tonda is at "ease." As condolences continued to flood in, he warned viewers that "tomorrow is never certain."
Thanks for stopping by , Have a Great Day.
Photos Source : Linda Ramirez | @lindax93 | Instagram page
---